Expertise
With a thirty-year experience in the area of Geographic Information and Real-Time 3D (RT3D) technologies, we offer unique, multidisciplinary expertise: in-depth knowledge of our software solutions and the market enable us to provide technical and operational advice suited to your requirements.

We accompany you through every phase of your digital project: from the specification to the design and onto integration, all the way through maintaining your critical systems.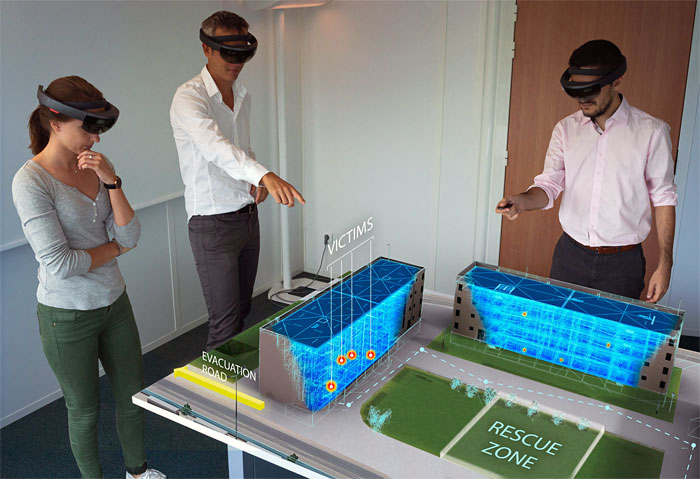 Co-construction
In order to best meet your requirements, which often evolve as the project develops, we go further and commit to a co-construction approach. As indicated, this involves the active participation of end users (both operators and administrators), whose feedback will help make informed choices.

The outcome of this process is a "tailored" Crimson solution, perfectly suited to industry-specific requirements. Co-construction can be rolled out in several stages:
Testing
the software solution
in an operational environment
This helps monitor the industry-specific environment and grasp the stakes and challenges within.
Elaborating a
Minimum Viable Product
(MVP)
Using an agile methodology, we customise the software features of the solution and develop interoperability gateways to make it sustainable.
Deploying the
Crimson solution
on site or across multiple sites
Integration in the end-user environement can lead to the development of additional functions or connections, following an operational test phase, for instance on a pilot site.
Throughout the process, our main goal is to assess actual needs and adapt the solution accordingly, up until delivery quaity control.
We provide a wide range of training options to help you familiarise yourselves with Crimson and support regular updates, year after year. Standard or customised training sessions will be offered as per your specific needs or skills.

The course offerings are manifold, based on the trainees themselves:



As our partner,
Valabre
provides training to the French Fire and Rescue Department Services (SDIS) that have subscribed to the Crimson Tactic offer. These services are charged directly to the end users, unless they have signed a convention with Valabre, in which case they are included in their membership fees.
For more detail, or for any other matter related to training, please send an email to:
This email address is being protected from spambots. You need JavaScript enabled to view it.
.
We offer dedicated and advanced support to Crimson users. This service, available with maintenance contracts related to the acquisition of licences, provides access to the following: