Crimson, platform of choice of the civil protection organisations and French firefighters for operational preparedness and mission management using a multi-dimensitonal common operational picture, will be one of the cornerstones of the European "Domino" Full-scale Exercise (FSX) that will take place from the 16th to the 20th of May 2022.
In keeping with the spirit of solidarity embodied by the European Union, the Directorate-General for European Civil Protection and Humanitarian Aid Operations (DG ECHO) funds a number of civil security training exercises every year. ECHO's main mission is to preserve lives, prevent and alleviate human suffering and safeguard the integrity and dignity of populations affected by natural or man-made disasters.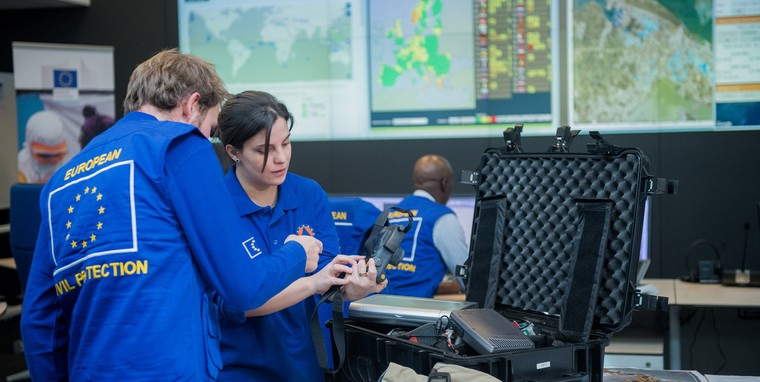 This 48-hours field exercise, culmination of one-and-a-half-year long preparatory process, will unfold under the umbrella of the French, German and Spanish Ministries of the Interior, the Belgian Federal Public Service and the Entente Valabre for forest management in protected Mediterranean areas. The exercise will deal mainly with chemical risks and a maritime pollution event, including disaster medicine. It will be based on first responders' feedback after the massive explosion at the French Lubrizol plant in Rouen, in September 2019. An adapted scenario will be implemented in the industrial risk basin of Fos-sur-Mer, near Marseille (South of France), which shelters over 20 SEVESO sites. The FSX will act out every aspect of this kind of intervention. Operators will be trained in using Crimson, and access will be granted in every ministry and at the Emergency Response Coordination Centre
(ERCC) to share real-time situational awareness.
The FSX will be conducted with the Bouches-du-Rhône Fire and Rescue Department Services (SDIS 13), the Marseille Marine Firefighting Battalion (BMPM) and the Zonal Operations Centre (COZ), all equipped with the Crimson Tactic COP solution. Support will be provided by the Entente Valabre, French hub for the prevention of major natural disasters, which has been helping CS GROUP develop and deploy its digital platform for years.